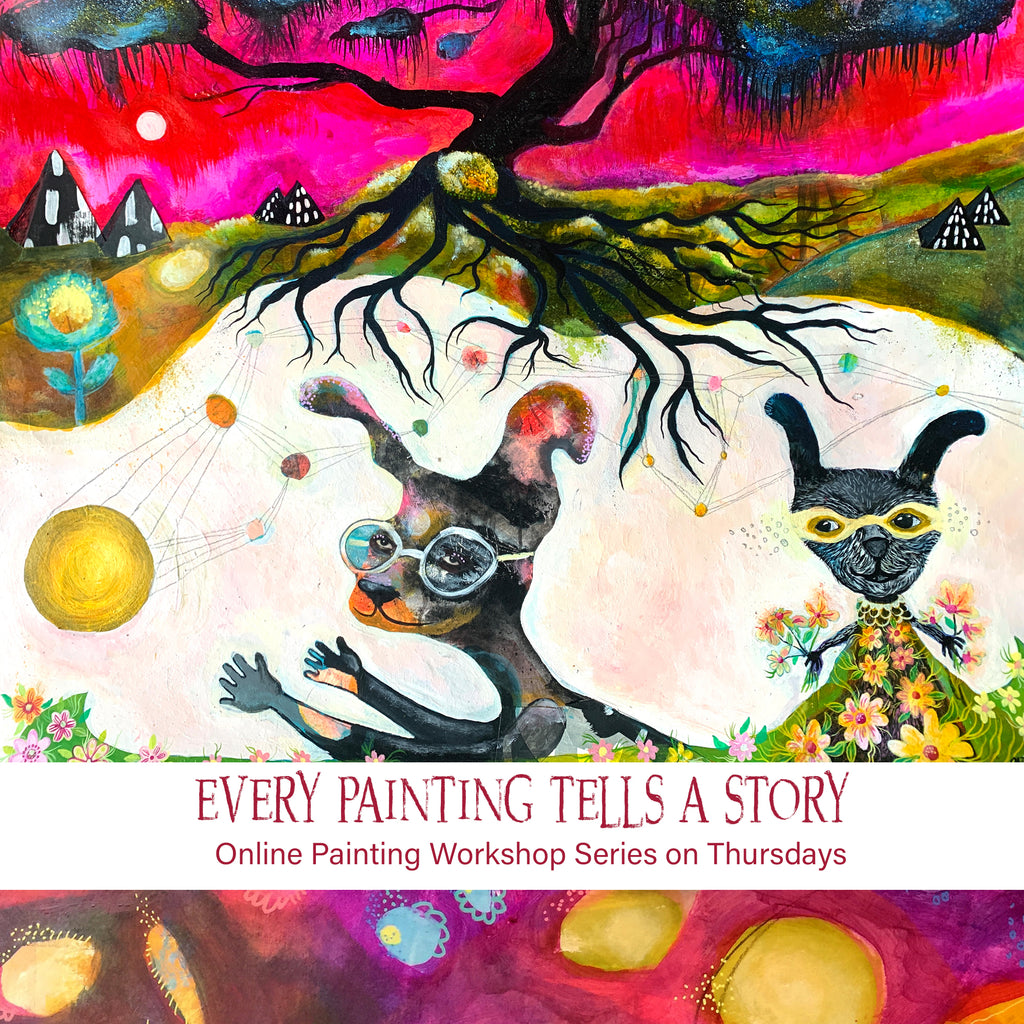 July 2023 Thursday Every Painting Tells a Story, Online Painting Workshop
The NEW 4-week online workshop series starts on THURSDAY, JULY 6th
From 11 am - 1.30 pm PST. 
Most of my paintings start without any plan or sketch.
Characters and stories develop while I am in the painting process. I love to be surprised by what appears. This makes painting magical to me.
In this workshop, we'll first experiment with color and mark-making with acrylic paints. Then we'll create rich layers and same time experiment with opaque and translucent paints.  Paying attention to images and stories that will appear. and bringing them out. Then refinding them by using paint, collage, stencil, ink, and paint pens.
No prior painting experience is necessary. 
Our intention is always to follow the joy of the painting process while experimenting with different techniques. 

DATES & TIMES:
4 THURSDAYS 11 am - 1.30 pm 
JULY  6th  Exploring color, textures, and marks with opaque and transparent paint.  
JULY  13th  Finding images and patterns in the texture.

  20th     Shaping the images and following the "story".
JULY  27th    Composition & details. 
Times are in PST.
The class is limited to 14 participants.
Once you register by purchasing the class you'll get a downloadable PDF with a list of materials and the Zoom link.
For every online painting series, my intention is to create a community and safe space where we can explore our creativity together. This is a reason why all the painters are asked to keep their Zoom cameras on during the class.
Classes are recorded.
If you happen to miss one I will send you a recording that is available for viewing for up to two weeks.
Classes have been selling out fast. Save your spot now!

Looking forward to painting with you! 
Cancelation Policy:
Any cancelations fourteen days prior to the start of the workshop will be refunded minus a $20 cancelation fee. Cancelations later than fourteen days will receive credit for future painting workshops of the same or lesser value.
---
More from this collection